Who is the artist on my Sony World Photography Awards winning image?
On January 31st 2014 I saw these artists working on a long wall I had spotted a few days ago while driving my wife and child downtown for a stroll. I parked, asked my wife to wait for five minutes and off I ran to shoot.
I had been collecting snapshots of urban performers in downtown for almost a year but this was the first time I shot graffiti artists as we were in the outskirts of the "centro".
I walked around with excitement, making the most of the opportunity of being unnoticed yet until the very second I shot the winning image: the artist was on a spree and he just notice me while vigorously walking in front of his mural. A decisive moment.
If it was not by him and his mural I would never had the incredible chance of winning the Sony World Photography Awards arts and culture category so in an attempt to pay him for that gift I'm presenting you 19 year old Luis Gerardo Barcenas Gonzales (Raptor):
Luis, how did you start to paint?
I liked to draw since I was a child but I started painting tags on the street with my cousins when I was 11 years old –as they were much older- and I noticed I could do it better than them so this is how I got interested and eventually carried away by art.
So you started doing illegal tagging?
Yes, in the beginning, but I soon decided to avoid troubles and focus on doing artistic work. With time I moved from tagging to murals and found hyperrealism to be what I like to do the most.
Who has influenced your work?
I admire painters such as Monet and Goya; among graffiti artists I admire Belin from Spain and Madc from Germany.
You mentioned painters and I see you carry two canvas paintings with you. Do you also paint, what distinction do you make between painting and graffiti murals?
Painting is a slower more detailed way of working where I can do conceptual themes.
What are the themes of your work?
I like to do hyperrealistic figures: people, architecture, landscapes and nature.
What elements define your style?
I try not to have a style, to do something different every time. Observation and attention to detail are the keys to my work as I try to learn from everyone and to not repeat myself.
You are currently studying high school, do you have an art career in mind?
I want to dedicate myself to art for the rest of my life.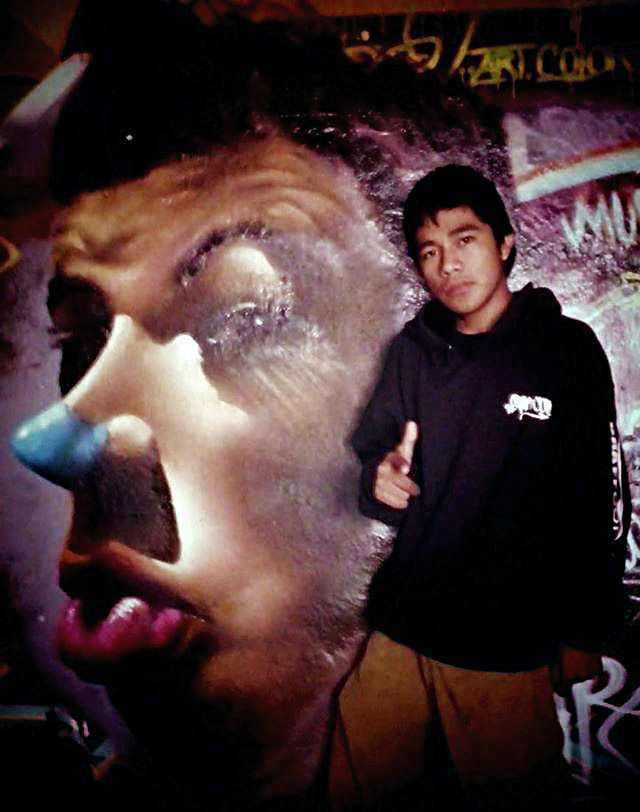 What is your dream as a painter and graffiti artist?
I want to paint in touristic spaces where many people can see my work in the walls, I want to paint in Spain and France and to visit their museums. Eventually I would like to see my paintings in those museums.
Among your work, which are your favorite pieces?
A mural I did in Oaxaca about sea life conservation and Quetzalcoatl, the mural you photographed.
What are your thoughts on graffiti?
Although graffiti is seen as something harmful, graffiti murals are my gift to the people.